3 Ways You Can Establish Brand Identity Across Platforms
The strongest brands are the ones that communicate your company's vision and culture, and it takes time to develop this distinct brand identity. Branding encompasses everything from color palette to messaging, and over time your brand might change as your company evolves.
Once you have a brand established, it's important to remember brand consistency. Brand consistency is exactly what it sounds like: maintaining the visual identity and messaging of your brand across platforms. If you have a mid to large sized team, then you likely have different team members working on social media, website building, print materials, and other marketing jobs. It's not always easy to communicate a consistent voice across platforms, but it's important if you want consumers to recognize your name. 
If you're struggling to maintain brand consistency, follow these tips to help keep your team and marketing materials in agreement.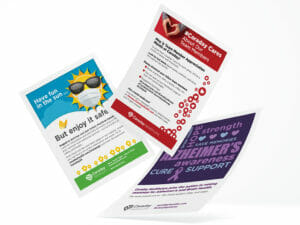 Include Logos And Brand Colors
Somewhere on all of your company's communications, you should include your logo. Whether it's always at the bottom, or tucked into a corner, consistently using your company's logo is a great way to establish brand recognition and identity.
You should also make sure that the colors you use are consistent. Marketing is a visual process, and customers are going to remember what colors you use if you use them well. Think about the iconic yellow "M" that's part of the McDonald's logo. Whether you're looking at a McDonalds sign from 30 years ago or one today, you'll instantly recognize that color and memories associated with that brand. This type of instant brand recognition is something your business should strive to achieve.
Post Frequently
The last thing you want is a customer not choosing your product or service because they don't remember what you offer. This is why it's important to post on social media and other marketing platforms often. Take advantage of company events and fundraisers and snap a photo for your website or Facebook account. Think creatively during the week about ways you can communicate your company's brand in an everyday setting.
If this sounds overwhelming to you, consider hiring a marketing agency to tackle tasks like social media posts and website management. Marketing professionals can ensure your brand messaging is reaching your intended audience. 
Create A Style Guide
If you don't have one already, it's helpful to create a style to distribute to your team. Style guides include things like font type, color scheme, and logo options. When it comes to brand messaging, a good style guide will also have your mission and values defined. Having this information in one place helps avoid mistakes and misunderstandings about what's okay to post and what's not. If your team understands your mission, then it's much easier to understand the best ways to communicate that.

Need To Establish Brand Consistency? ADVAN Can Help
Whether your business is brand-new, or you've recently revitalized your brand, it takes work to build and maintain brand consistency. And, when your time is filled up with every day business operations, sometimes brand and marketing management gets put on the back burner. 
If you find your company struggling to maintain your branding, then look to a marketing agency who can help. Here at ADVAN Design, we specialize in all things marketing. From social media management to website design to SEO services, we have taken hundreds of brands to the top with our industry expertise. Even if your company is starting from zero, the ADVAN team can help build you a website, and develop a marketing strategy to drive traffic. Our creative minds have years of experience in building an establishing brands. Once we have an understanding of your team and your mission, we'll use that information to tell the world why your product or service is better than the rest. And, when you invest in marketing services for the long-term, you can trust your brand is being maintained and your company is reaching potential customers.
Sound like something you could benefit from? Then don't wait. Contact ADVAN Design today to get started.